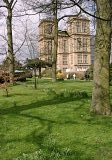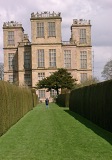 Built for Elizabeth, Dowager Countess of Shrewsbury, or Bess of Hardwick as she came to be known, Hardwick Hall is now in the care of the National Trust.
Famous for its "more glass than wall" design, it was a spectacular statement of wealth and status in an era when glass was rare and very expensive.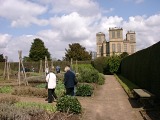 Set on a hill top overlooking the Derbyshire countryside, the hall contains many fine tapestries and 16th Century furniture and paintings. The gardens are extensive and most pleasant to stroll around, particularly on a fine sunny day.
Although not actually in the Peak District, it's included here as a recommended place to visit nearby. More information:
http://www.cressbrook.co.uk/features/hardwick/
http://www.britainexpress.com/counties/derbyshire/houses/hardwick.htm