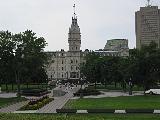 Québec's Parliament Buildings, just up the road from the Youth Hostel.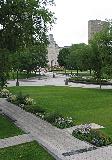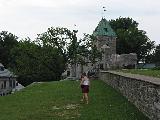 The city's walls extend almost all the way round the old city.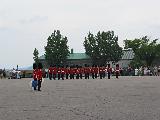 At the Citadel, built on the highest point within the city, the Changing of the Guard is performed every morning by the Royal 22nd Regiment of the Canadian Army. The goat is their mascot.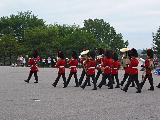 The Royal 22nd Regiment is the only completely French speaking regiment in the Canadian Army.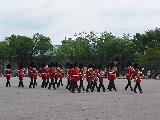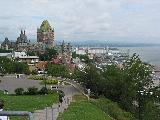 Walking down from the Citadel there is this wonderful view over the old city, dominated by the Chateau Frontenac.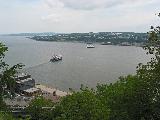 The extensive views over the St. Lawrence includes Ile d'Orlean in the distance which we will cycle at the end of the tour, and the Lévis ferry by which we crossed the river.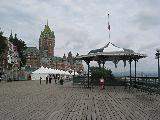 Dating from 1838, Dufferin Terrace extends along the cliff from Chateau Frontenac for 671m (2200ft).